This Saturday features another multi-game itinerary. The hometown Rays host Cleveland this afternoon, which fits perfectly with a night game in Fort Myers where the Yankees and Twins farmhands tangle. Following that game we'll remain south and drive to Miami for tomorrow's Mets-Marlins matchup.
Today is our opportunity (or so we believe) to try the local "Simply Delicious" Country Market and Deli. The Internet tells us they open at 11:30. Silly Internet. When we arrive at the tiny, completely empty strip mall, there's a handwritten sign posted in the tattered screen door that reads: "Open at 12 noon today." That would cut into our stadium exploration time prior to the 1:40 first pitch so we decide to head toward Tropicana Field, park and find something nearby for pre-game. So much for whatever would be "Simply Delicious," at least for today.
Eventually we stumble across a local gem downtown called The Burg Bar and Grill, about three blocks from The Trop.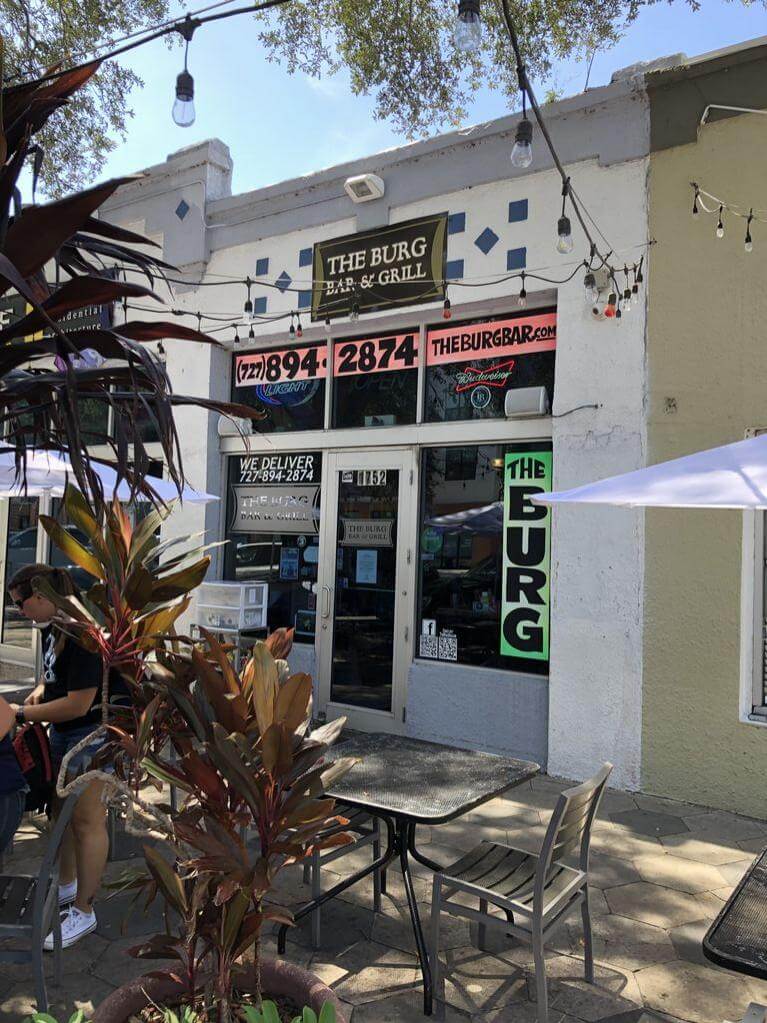 We immediately know that we've come to the right place for pre-game. The Burg has a handful of high tables and a decent sized bar inside. Only one table is open. The remainder of the seating features folks of all ages in their Rays and Cleveland caps and jerseys.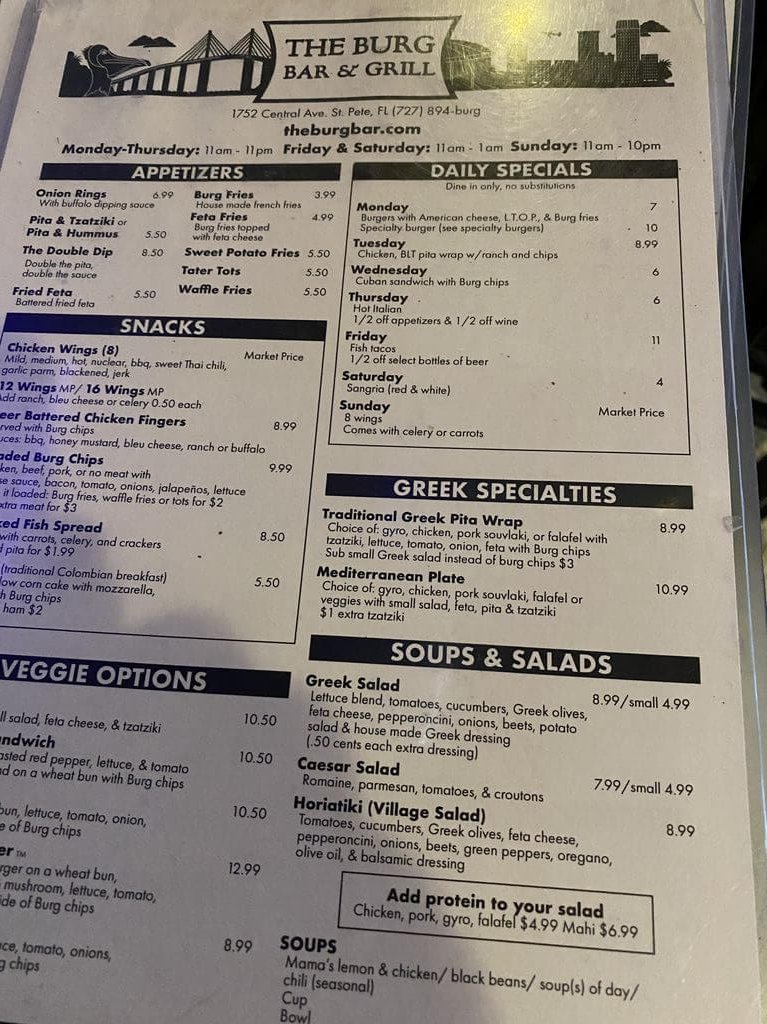 Having the advantage of sitting at the corner table at the back, we observe baseball fans coming and going. Two hard-working servers help everyone as even the umbrella-covered tables on the sidewalk fill with fans. Mitch and I enjoy the baseball vibe along with our delicious lunch.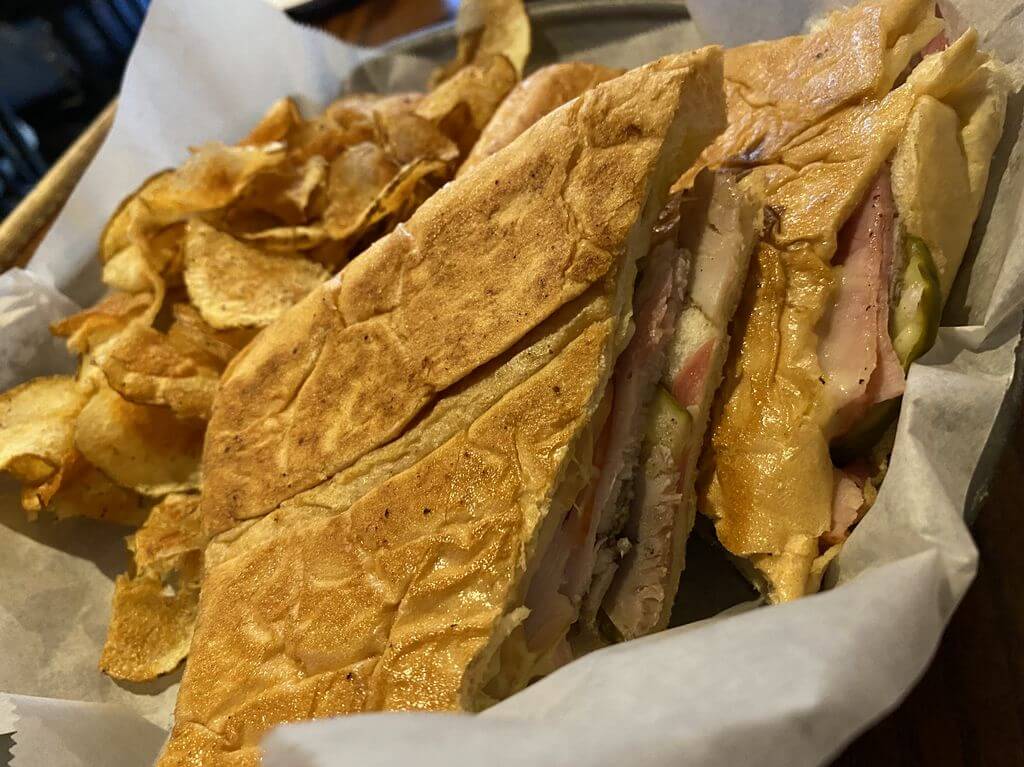 My Cuban with potato chips really hits the spot. It's tender, juicy and flavorful. Mitch enjoys a burger with chips and cole slaw. A couple of drafts top off a satisfying lunch that stays with us until we arrive at tonight's game in Fort Myers!
Maybe I'm just comparing to the low level baseball crowds of the past few days, but there appears to be a lot of folks heading toward The Trop. Largo police officers assist with traffic flow and pedestrians crossing wide avenues.
Mitch shares that he had attended the inaugural Devil Rays MLB game here, opening day on March 31st, 1998. He'd also been here for Tampa Bay Lightning hockey.
On the way inside employees hand out sleeveless basketball jerseys featuring the name and number of Rays center fielder Brett Phillips. Between innings Brett would interact with fans in the outfield. They really appreciate when he tosses warm-up ball into their seating area.
As is the norm for Mitch and me at major league parks, we never go to our seats. We always walk all around to soak in the perspective from each area. We usually stand or lean for an inning or two before moving to the next view.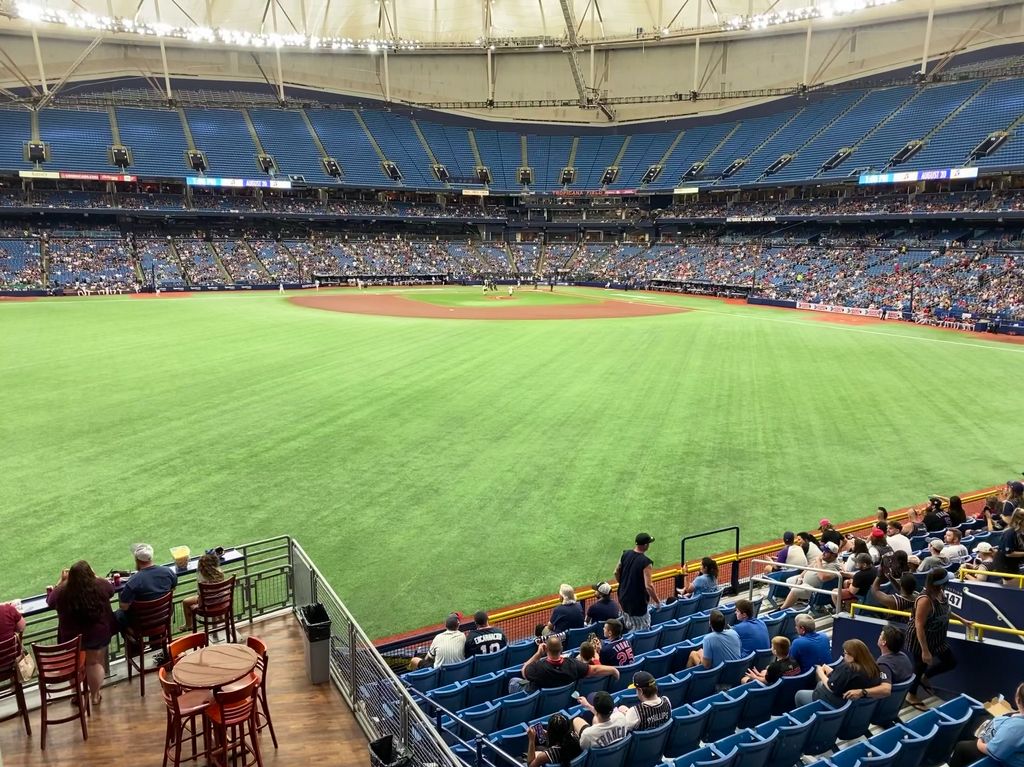 The park is much more crowded than I was used to seeing on TV. There's an electricity that we attribute to a winning ball club and today's giveaway. As domed ballparks go, The Trop itself isn't nearly as bad as the cameras display.
The concourse is narrow with fans darting in different directions while others attempt to stand in line for concessions. They did add a new outer concourse with newer food options. Those areas are less crowded and much easier to negotiate.
I'm impressed with players tracking pop flies against the off-white ceiling. Amed Rosario (who I saw when he hit .341 with AA Binghamton in 2016) and José Ramirez would put their heads down, run to a spot, turn to find the ball, and end up exactly where the ball was descending.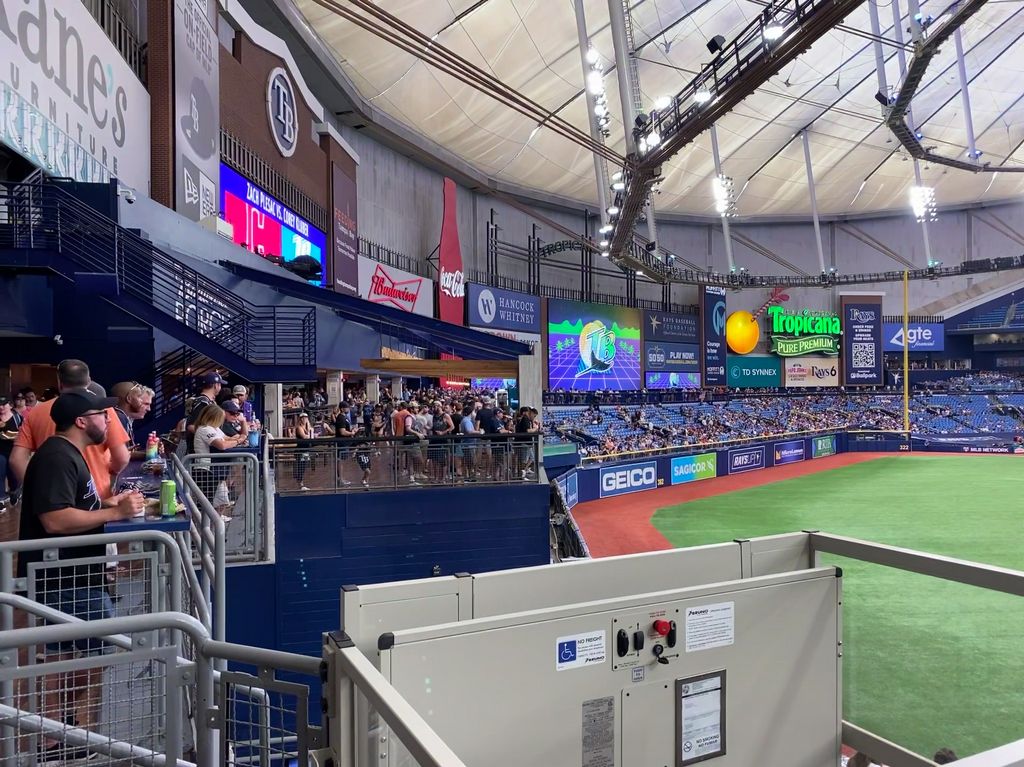 We witness three long home runs as the Rays jump out to an early lead and hold on for a 6-4 hometown victory over Cleveland. José Ramirez represents the go-ahead run with two outs in the 9th, but Pete Fairbanks records the final out for his second save. (This marks the first home team win on UBT 2022!)
Official attendance is a solid 22,576. And they all surround us on our way out! In addition, once we reach the exit, more people are lined up to come inside. We never stop to find out why. We have a night game to catch in Fort Myers.
From our neighborhood (one-third the price) parking, we have clear sailing to the interstate, travel back over the Skybridge, and continue south. I-75 takes us past Bradenton, Sarasota, and about 130 miles total, to the home of the Mighty Mussels.
We arrive at the Twins complex in plenty of time for tonight's game against the Yankees affiliate, the Tampa Tarpons. Each lane of the grassy parking lot is named for a Twins legend: Pohlad Lane, Killebrew Lane, Mauer Lane, etc. Of course, we select Harmon Killebrew and take a brief walk to the stairs in front of Hammond Stadium. Until we reach the concourse behind home plate, we're unaware that this will be Game 2 of a twin-bill due to Friday's rainout. The Tarpons took the opener, 5-2.
As we peer onto the field, the grounds crew has a rolled up tarp near the right field line as a quick sprinkle begins from above. Soon, however, preparation for the nightcap commences.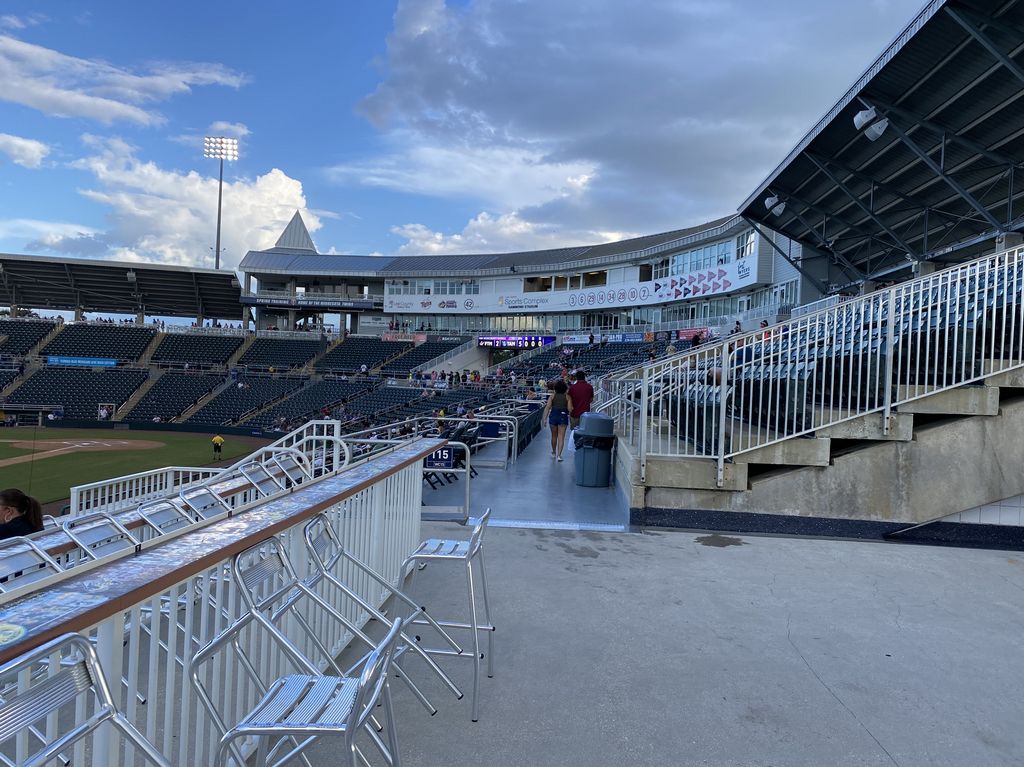 I walk around the concourse, which doesn't provide a view of the field. Several tables are set up with cans of beer, seltzers and hard ciders. A wristband gets you samples at each of the dozen or so tables. I only notice a couple of ales that I would try, so I opt for a High Five IPA pint draught from Fort Myers Brewing Company. Mitch orders an amber ale called Red Tape.
Because the workers notice our UBT shirts, we chat at the concession stand for a few minutes. With a bite in hand (our first nourishment since The Burg) and a cold brew, we settle into the front row at the Tarpons on-deck circle. Mitch acquired our "true Bob Uecker" seats online and surprised me as we neared the backstop netting. Now we can reach out and touch it.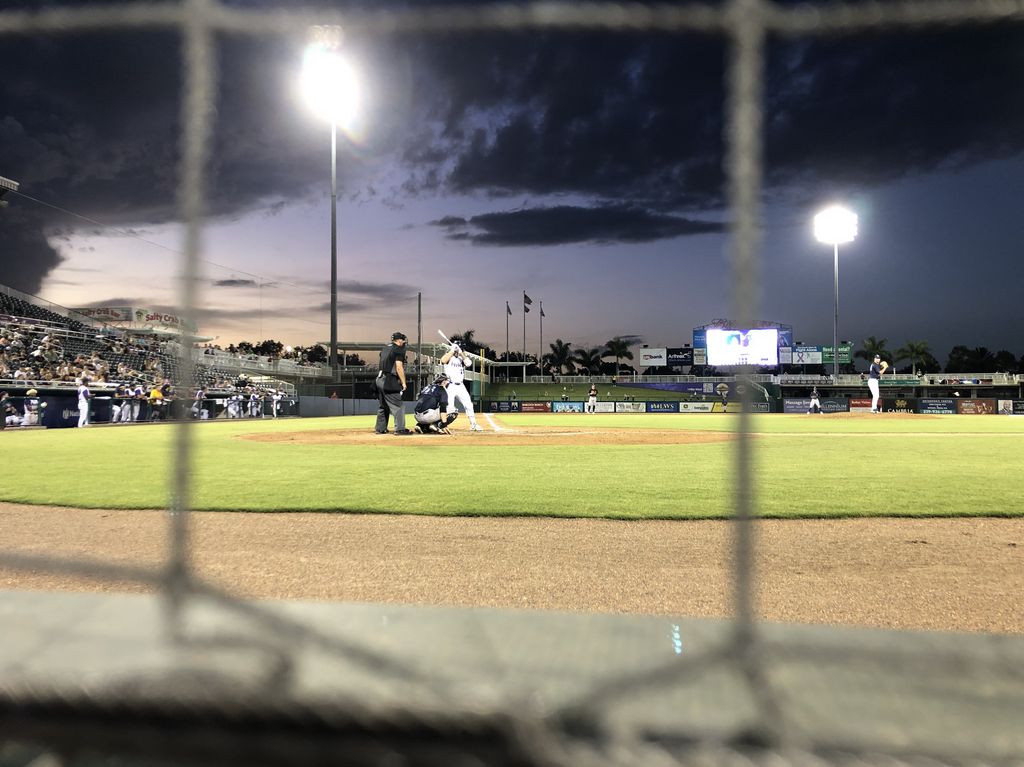 The Tarpons firstbaseman is a tall, lank lefty who smokes the ball way out to right in his first plate appearance. Impressive. Between innings, I text a high-schooler who I currently coach who shares the same name and also plays 1B.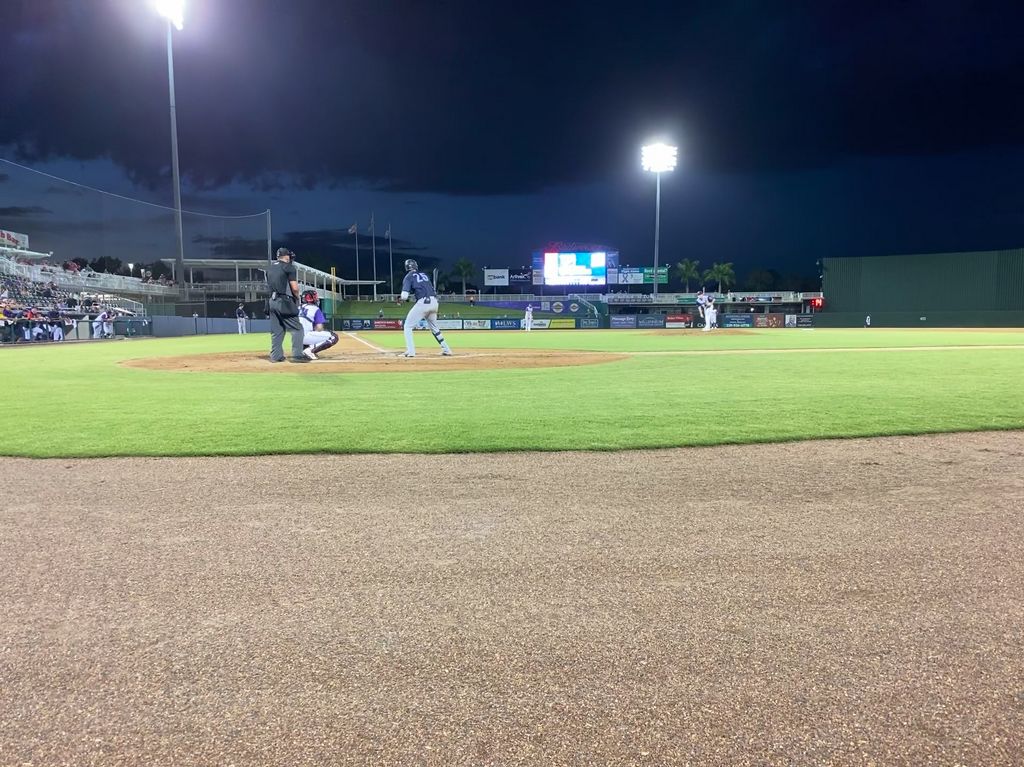 I notice the Tarpons starting pitcher removing his cap between his warm-ups and the start of his inning to pray. Richard Fitts is a 6th round selection out of Auburn. This is his first professional season. In another week he will be promoted to High-A Hudson Valley to complete a successful rookie season.
The Tarpons and Mussels trade runs in the 2nd. The Mussels score candlesticks in their next three at bats to split the doubleheader, 4-2, in seven innings. It's a crisply played game with no extended rallies. The between inning entertainment is typical for MiLB as is the PA announcer.
Since it's a quick game, Mitch searches for Fort Myers Brewing online for "one more" before checking in to our nearby hotel. Bingo! It's only fifteen minutes from here and open late so away we go. We're at the edge of town following the designated six mile drive and are instructed to turn left into a business park.
Having missed the turn, we continue into pitch darkness to attempt to turn around. This would be the first time either of us have ever encountered "Panther Crossing" signs. Once we can turn around and enter the dimly lit business park, none of the several side-by-side businesses appear to be open. Mitch suggests that we drive around the back and ta-da!
Fort Myers Brewing Company is hopping with activity and looks exactly as it appears on the website, except darker. Lights are strung across the driveway, picnic tables are filled with pleasant customers, music is playing, and food trucks are still open. The open air, modern bar is full of taps.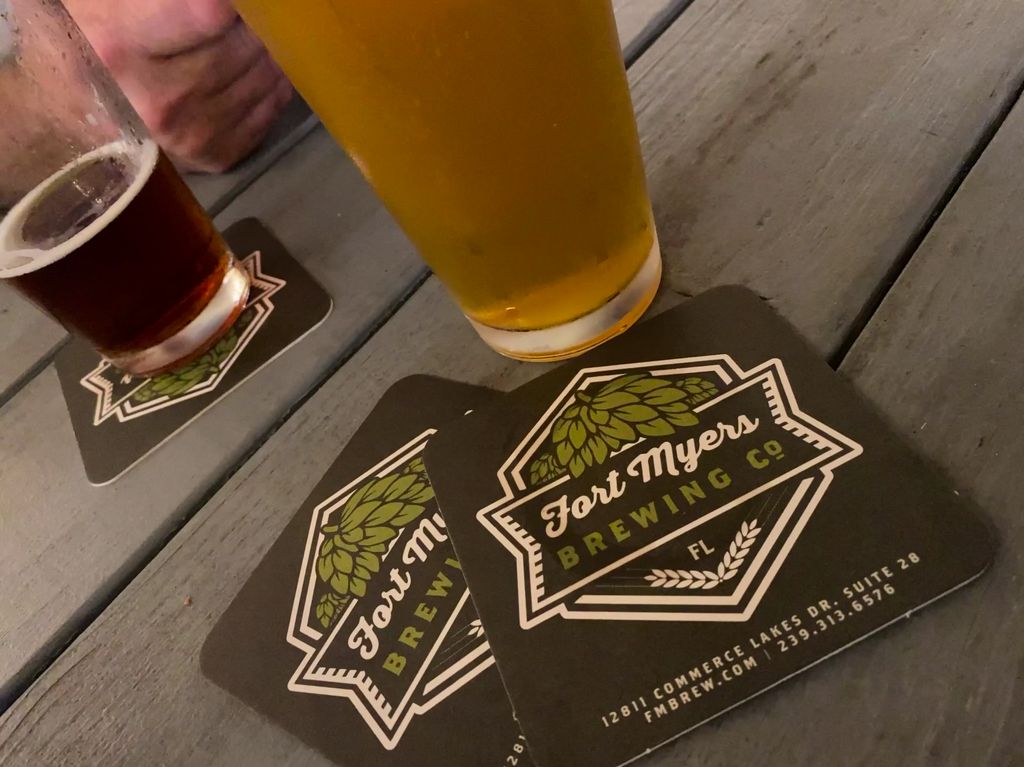 Once I learn that High Five is their signature IPA, I order one fresh from the brewery. Mitch sticks with Red Tape even though they have a sour called "Sour Mitch." We park ourselves at the only unoccupied picnic table. Happy folks keep coming and going, some on golf carts from a nearby development. We don't stay long, but we really enjoy our experience.