The Carpenter Complex looks vastly different than it did 34 years ago. Mindy and I attended games at Jack Russell Stadium (and other spring training parks) during our honeymoon.
Today's games are played on Robin Roberts Field, which is just beyond Steve Carlton Field and parallels Richie Ashburn Field. For these rookie league games in the Florida Complex League, you park for free and walk right inside. (For perspective this had been called the Gulf Coast League since 1964.)
Mike Schmidt field features a pitcher throwing a simulated game with a live hitter wearing shorts standing in the right-handed batter's box with a helmet and bat.
We sit on the single set of abbreviated aluminum bleachers next to the Blue Jays' on deck circle. This setup reminds me of watching an American Legion game except with professional players and equipment on an extremely well-manicured field.
The Jays' mini dugout is about fifty feet to our left. Players and coaches stroll past us. A couple of players sit on chairs between us and the tarp-covered, field-level dugout.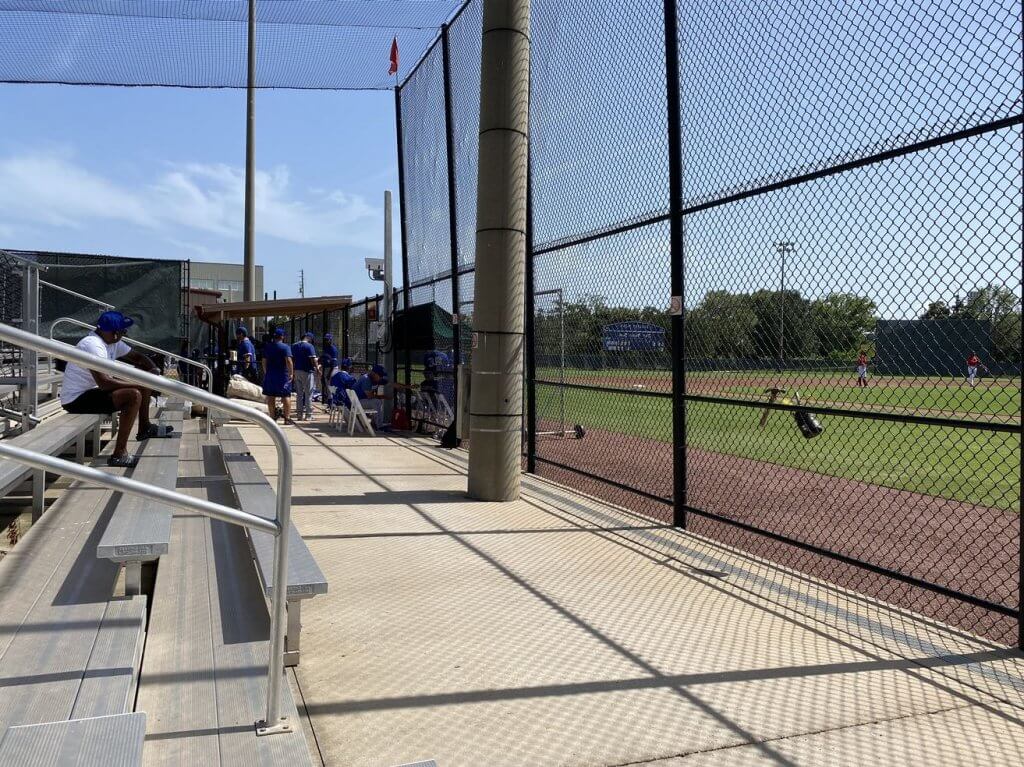 The scoreboard displays the basics (R/H/E totals, the score by inning and B/S/O). There's no PA announcer or music played. Baseball is truly the focus. We can hear coaches calling to the players and players communicating with teammates. After one inning the Blue Jays' coaches shout for the team to hustle off the field.
There may be five other spectators at this game. A couple of women behind us cheer when the Jays do something well. Between innings, one gentleman with an umbrella to shade the sun informs us that he attends most of these games. He also shares that he's the PA announcer for the Threshers. We tell him that we attended last night's game. He goes on almost apologetically about how poorly they played in the 8-0 defeat. I look back between innings and he's busy typing player notes on a device.
If I lived here, I would attend every one of these games. This would be my current sweet spot for enjoying professional baseball. These are the new signees, the rawest of professional baseball players. Many are from the Dominican Republic and Venezuela. At least one player is just 17-years-old. One of the Phillies' players is from New Zealand. Mitch looks up each of the players and learns that this New Zealander could have been drafted as a pitcher as well. That's quite a rarity, especially from a non-baseball region of the world.
Another lefty-hitting Phillie, Jordan Viars, hails from Plano, Texas. His arm sleeve features a cross. The Phillies selected him in the third round of the 2021 draft. With two strikes, he picks on a high pitch and laces a double in the gap. I know next to nothing about this young player, but I'm happy for him. Just like the players I coach, I want them all to perform well.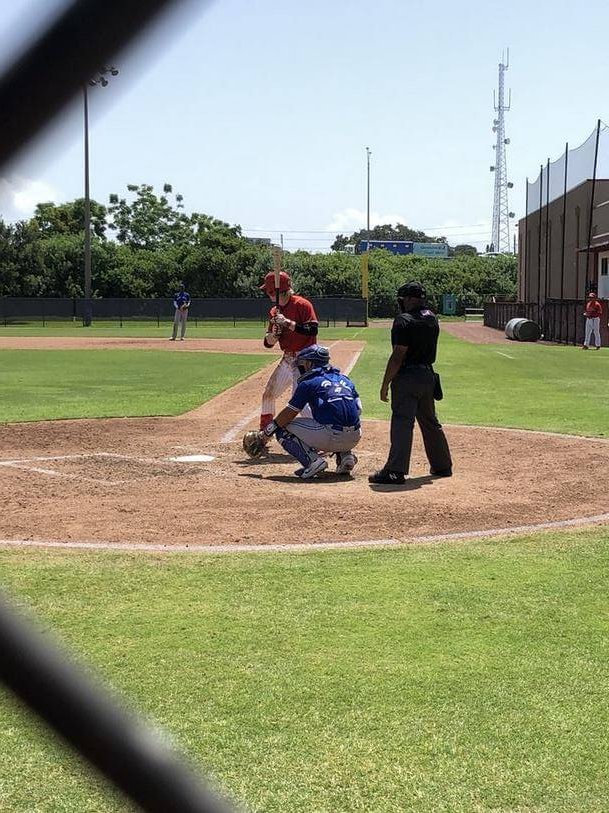 The Jays win 4-2, but the Phillies leave the go-ahead run at the plate when the game ends. It's exciting, well-played baseball without distractions.
After sitting in the 90-degree sun on aluminum bleachers, we retreat to a local Latino restaurante called Huarache Azteca. This may have been the best carne del cerdo (pork) burrito I've ever had. Mitch commented that you know you're in the right place when you're the only native English speakers.
Soon it's time to roll south to Bradenton. We cross the iconic Skybridge and arrive at LECOM Park an hour early. Fortunately, we notice Magnanimous Brewing directly across the street from the neighborhood ballpark. This small satellite brewing location boasts a fairly modern building featuring a good-sized U-shaped bar, a handful of tables and lots of taps.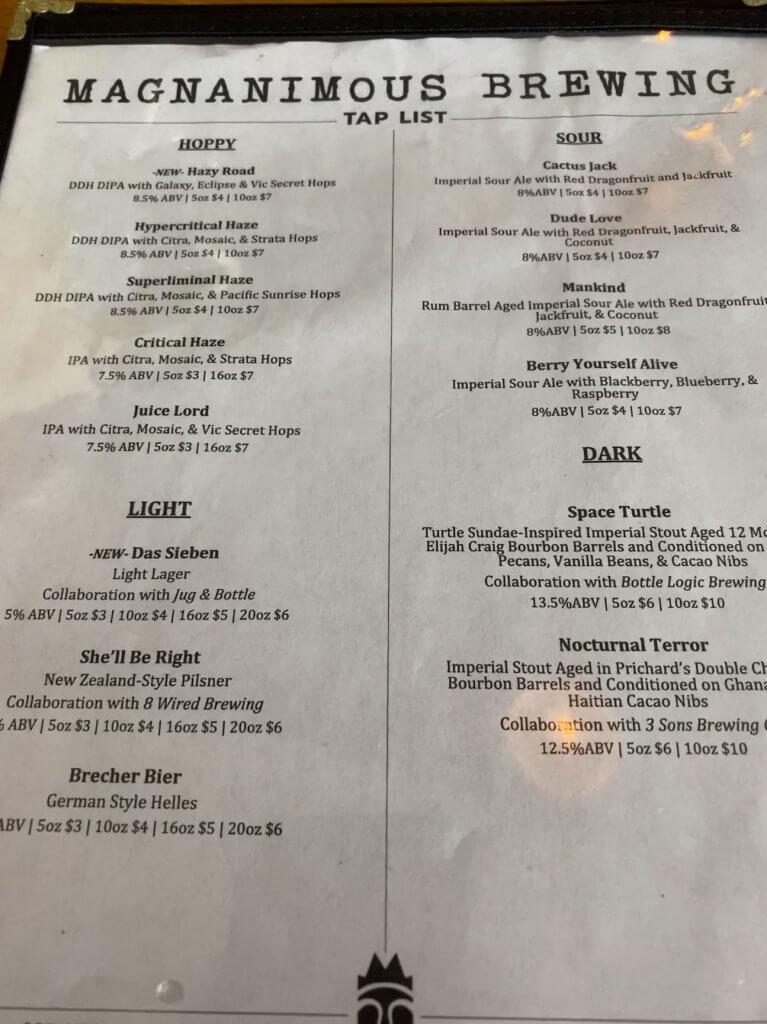 Mitch and I grab stools at the bar along with three couples and scan the beer menu. I decide on the Juice Lord IPA, their signature IPA, although a few IPAs catch my eye (and thirst). The couple nearest us talk Mitch into the bourbon barrel aged imperial stout called Space Turtle. It's a ten-ounce pour due to the alcohol content. I follow up with a Hazy Road double IPA pint before we re-cross the street to the ballpark.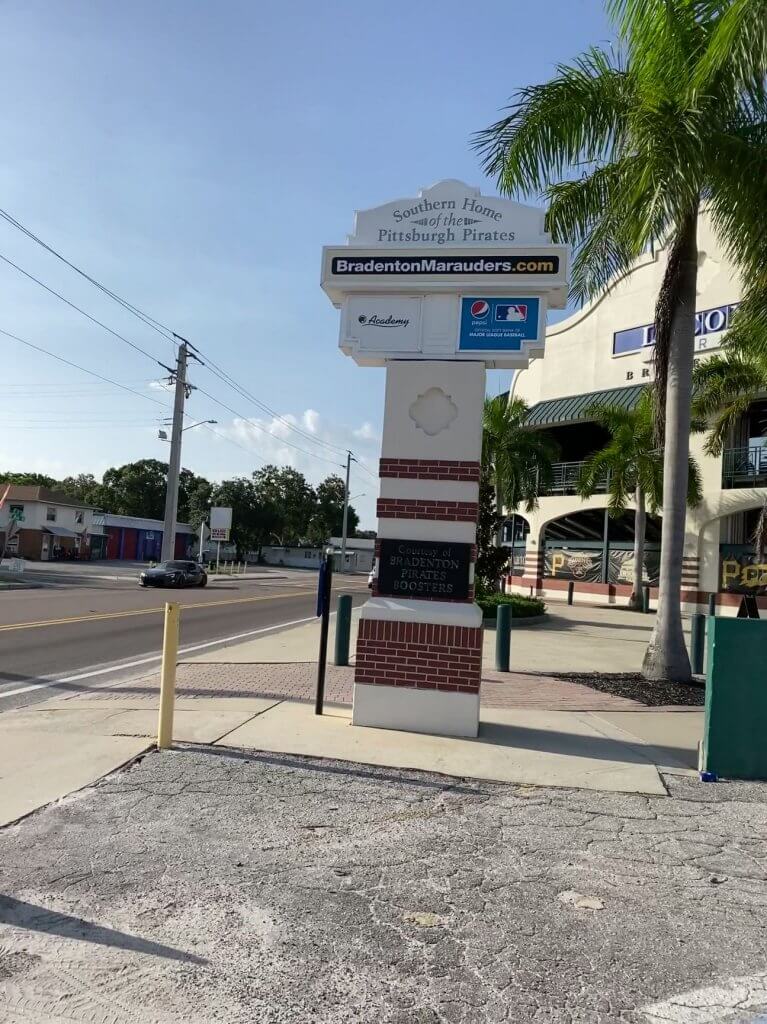 Mitch had played on this field during his Pirates Fantasy Camp days. He shares fun memories of being here many times, including when Michael Jordan debuted as a baseball player on March 4, 1994.
While we walk around soaking in the ballpark, the Lakeland Flying Tigers go ahead early, 2-0. Our seats are front row behind the plate, but we sit in the fourth row for a better angle of the pitcher-catcher-batter-umpire dynamic. We both notice a very light crowd for a Friday night. In fact the announced attendance is only 825.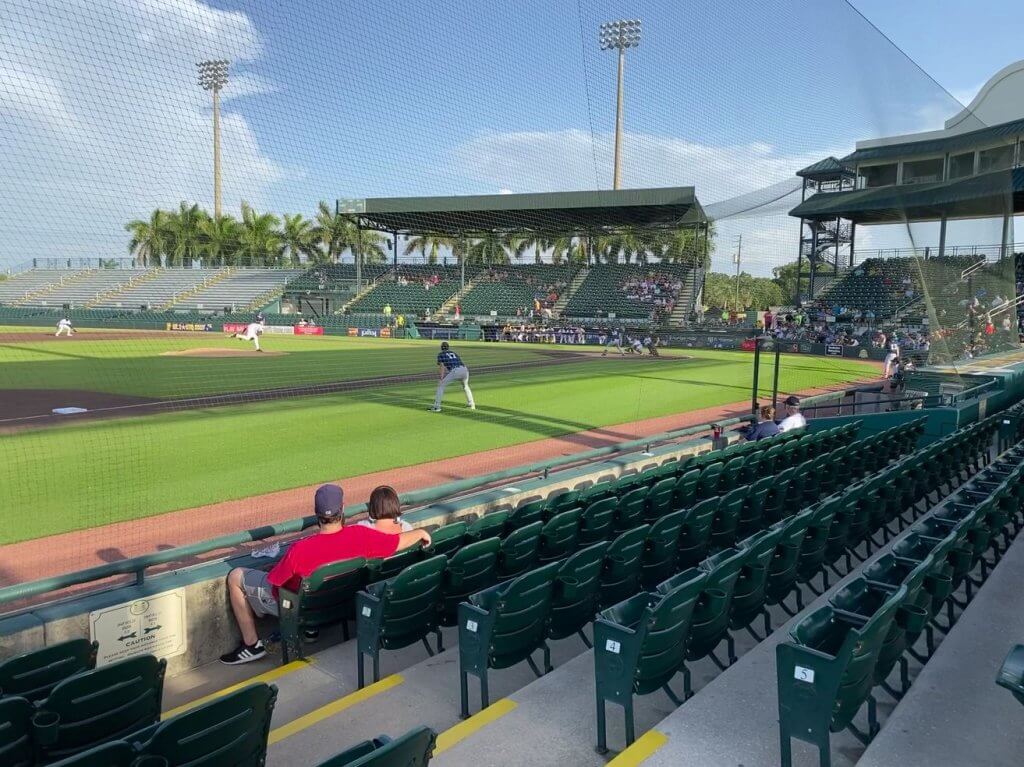 Scoreboard video catches my attention between certain innings. They're playing interview segments featuring Morris Paskell, a former 9 Devils player. The tribute is very well produced to show 60-90 seconds at a time. What a refreshing, educational break from the usual between-inning circus!
Before the Flying Tigers hold on for an eventual 7-4 win, Mitch strikes up a conversation with a bearded gentleman sitting alone in front of us. He lives in Jacksonville, his two teenage sons play ball, and his wife is from York, PA, so we have a lot to discuss over the final two innings.
After the game we linger to chat with a couple of employees who comment on our UBT shirts. They thank us for making LECOM Park part of our 2022 itinerary.