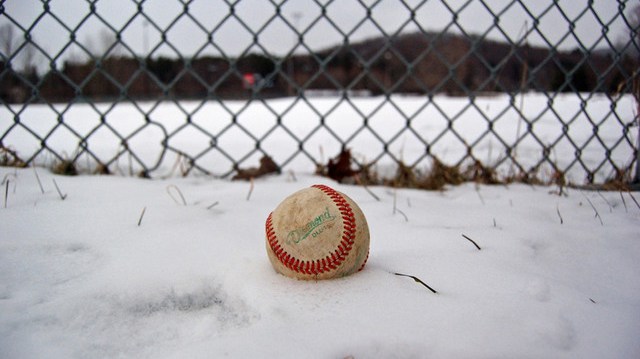 Now that the 12 Days of Christmas have given way to the Magi, my epiphany reveals that I've heard very little from baseball's winter leagues. Plus, I haven't witnessed a baseball game since the Arizona Fall League Championship. Horrors.
Despite MLB's #NoOffseason promos, it sure feels like #NoBaseball with a side of below zero wind chill to me. Instead of ice on the Susquehanna, I'm more than ready to see a freshly mown outfield expanse and a neatly groomed batter's box. Rather than hear the furnace kick on every ten seconds, I could really go for the echoing crack of the bat or a sizzling rope hitting a first baseman's mitt.
Give me short sleeves (or at least baseball sleeves), a baseball cap and a good pitching match-up.  I want to get lost in the strategy of a pitching sequence or a perfectly executed hit-and-run play.
Put me in a seat at a ballpark where I can soak up the sun, make a cold draft "evaporate," and arm chair manage my way through a tight, well-played ballgame. Between innings, we'll talk about the prospects, the playoff chances of the big club, and the team's new faces.
I'll happily thaw by enjoying a couple of Spot Dogs ("Two up, please, Eric!"), stroll on the boardwalk in the sunshine, and pick up a slight breeze wafting toward left field. For me, two things that are never overrated: 1) warmth; and 2) baseball. Bring 'em on!