Today's itinerary? Get back to the St. Pete-Clearwater International Airport to return the rental car and catch our early evening return flight to HIA. A friend of Mitch suggested we tackle this coast-to-coast ride on a mostly two-lane highway. State Route 70 will take just about four hours driving time, yet shave off several miles from using the I-4 portion of the Florida Turnpike; plus, we'll get to see a lot more of rural Florida than a four-lane interstate can provide to us.
Since any number of issues could delay us, we hit the road early. Route 710 angles north to get around Lake Okeechobee, then flows nearly due west before hitting I-75. Our final ride over Skybridge takes us back to Clearwater and to the airport.
With coffee in hand we settle in for the long trek. We find different local radio stations while taking in the scenery. Route 70 flows through small towns like Arcadia and Myakka City. We stop for a bite (and more coffee) in tiny Joshua.
This route is mostly two-lane road through vast farms. We're both amazed at the many tractor trailers passing even on these stretches. One attempts to pass us, notices an eastbound vehicle, and slides back in behind us … until the next stretch.
As we near I-75 we discuss eating again prior to reaching the airport. We decide one last time to stop at Simply Delicious. While most of the strip plaza remains empty, there's a line of people waiting at the door of this hidden gem. The locals rave in anticipation of their orders. The line behind us continues to grow.
Fortunately, we have plenty of time to wait for our two made-to-order large Cubans. Unfortunately, we could have shared with a family of four and still been satisfied.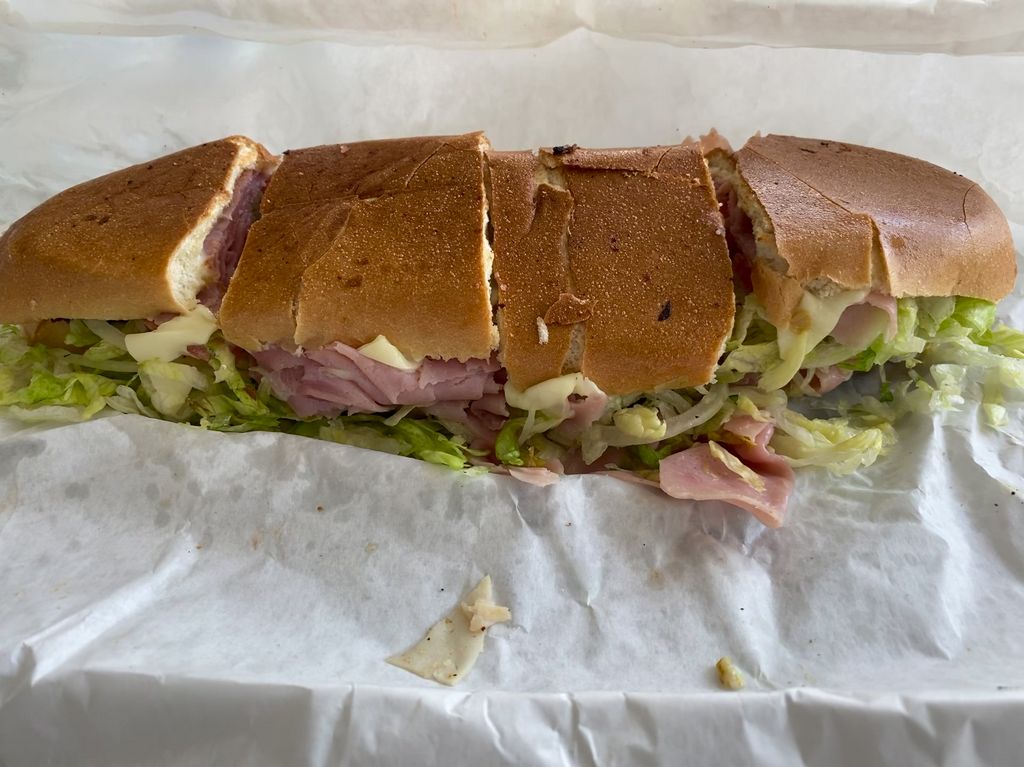 This photo doesn't do the freshness, incredible flavors, or the size any justice. The final Cuban of the week is hands down the very best. Thank you, Mama, for an amazing sandwich for our final bites in Florida!
We shared our final bottles of spring water with the folks working in the heat of the rental car return parking lot. That process went smoothly. We still had plenty of time, which was good, because the lines for checking our bags and security inched along slowly. Well, it was either wait in line or at the gate, so this wasn't stressful — especially compared to our close call before our flight south.
The flight was uneventful. Since we sat at the very back of the plane, our checked bags were already at baggage claim when we got downstairs at HIA. Again, it's wait one place or another.
Since we parked in the same section, we walk to the garage together. As we had throughout the week, Mitch and I share suggestions for our next UBT adventure. He only has two California MLB parks in which to attend a game; I have eight remaining. Our only mutual debut game destination is PETCO Park. I'm certain we'll work something out.
Mitch reaches into the back seat of his car and hands to me a signed reprint of Robin Roberts looking for the catcher's sign. According to the outfield scoreboard, Roberts is pitching with two outs in the bottom of the 10th. The Phillies picked up three runs in the top half to give their starter a 4-1 cushion.
This treasure finds its way onto my home office wall near a framed Roberts Hall of Fame plaque, a Rich Ashburn photo, and a pen-and-ink reprint of five HOF Phillies. Thank you, Mitch — not only for your extremely generous nature, but also for allowing me to tag along on incredible memorable baseball journeys. 'Til next UBT!