SABR 48 sessions don't begin until 8 AM today. We take advantage of an extra 30 minutes of sleep.
Larry Lester, chair of the Negro Leagues Research Committee, leads that meeting beginning at 8 AM. Larry casually asks committee members what they're currently working on. I'm amazed at the shear number and depth of research projects. A few match with others so those researchers can collaborate.
Larry played an integral part on Thursday's Wendell Smith panel. I eagerly introduced myself to him following the session. He warmly welcomed me and immediately wanted to exchange business cards. We may work together on some audio books.
I remain in the front row in Grand Ballroom 1 for the Media Panel. Curt Smith moderates Pirates' broadcasters Steve Blass, Greg Brown, Joe Block and Lanny Frattare, whom I got to meet beforehand.
From the moment Joe Block is introduced as "Joe Buck" this session is wall-to-wall entertainment. This hour of funny baseball and broadcasting stories (and attendee Q&A) concludes before any of us are ready. I could listen to this group all day!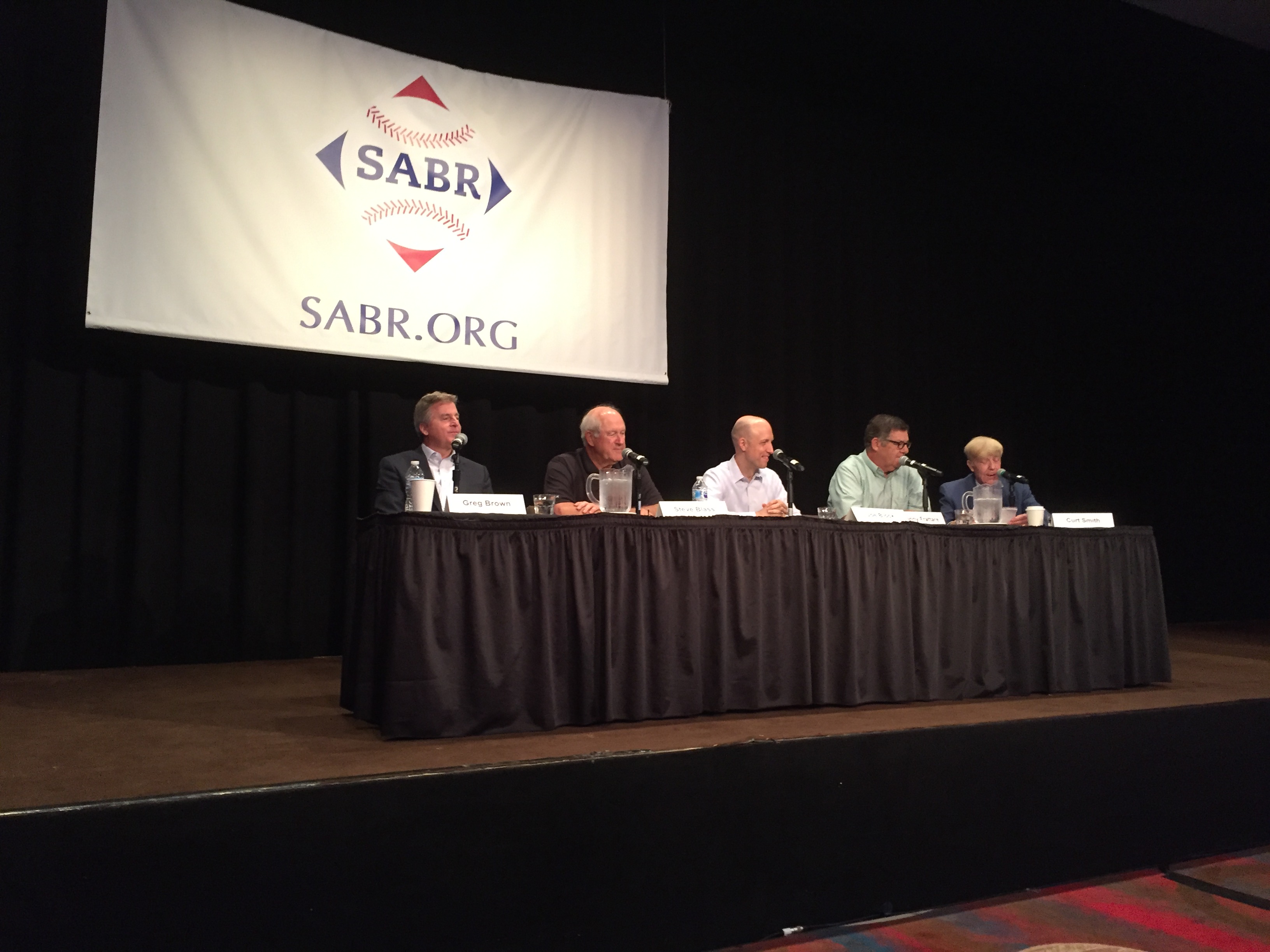 However, we have the Warhol Triple Play to attend, featuring Maris, Rose and Seaver. Paul Ember teaches me so much about Andy Warhol and his baseball art in this 30-minute session.
I remain in Grand Ballroom 2 for "In Harmony: The National Anthem for the National Pastime." I expect to learn some history of playing our nation's anthem prior to baseball games. Joseph L. Price throws me a curve ball instead.
He takes sabbatical from Whittier College to buy an RV and travel all corners of the US to sing the National Anthem at more than 100 professional ballparks. Joseph's "Perfect Pitch" includes his favorite ballpark, favorite fans, food, ballpark architecture, mascot, etc. Talk about entertaining!
Then comes the final question from the audience: "Why don't you sing it for us?" All rise as Joseph sings a cappella his favorite verse #4 in less than 1:15. Following this proud performance and rousing applause, I now vote for verse #4 to be sung prior to every game.
We now have some time to mingle prior to the SABR Awards Luncheon. We enjoy chatting with other SABR members before VP Leslie Heaphy presents prestigious awards to several dedicated and deserving baseball researchers.
After lunch we all stroll across the Roberto Clemente Bridge for an exclusive SABR 48 ballpark session. We sit behind the Pirates dugout to hear Joe Block moderate featured speakers such as Clint Hurdle, Neal Huntington and Dan Fox.
Following Q&A we talk with other members as the tarp and a threat of rain eliminates BP. As it opens we meet with friends in the Jim Beam LF Lounge until game time.
We settle into our seats just under roof between the Pirates dugout and left field foul pole. Occasional sprinkles don't affect us as we end up with free baseball. The D-Backs eventually win in extras and the Pirates only manage four hits all night, but there's nothing like being at the ballpark.
SABR 48 offers one more day of sessions. Our morning reprieve lasts until 9:15 Saturday morning for the Pirates Players Panel.
Ahhh. Extra rest after our late night at PNC Park.